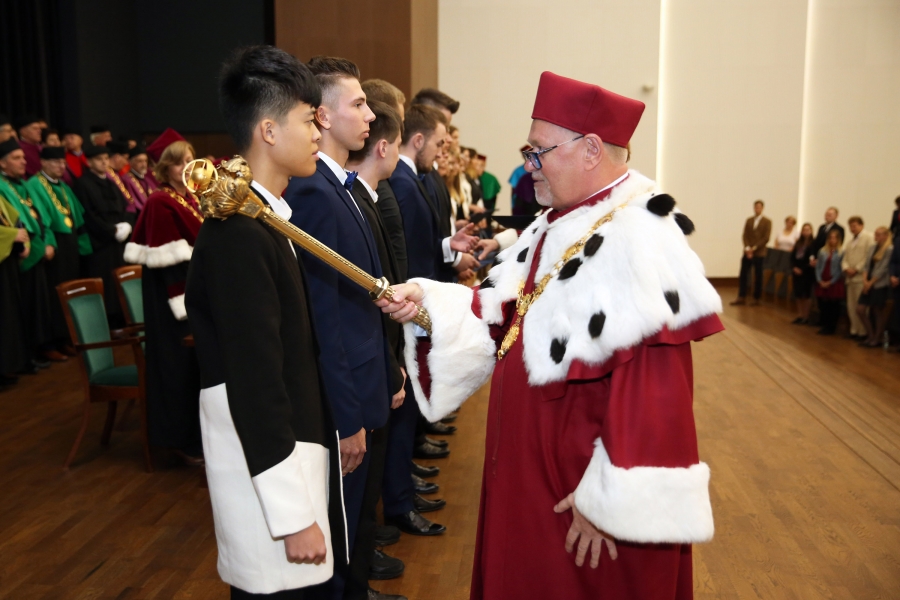 The inauguration of the new academic year at the Nicolaus Copernicus University in Toruń will take place on Tuesday, October 2nd, 2018 at 11:00 in NCU Auditorium Aula at ul. Gagarina 11. During the ceremony, dr habil. Daniel Simson, NCU Prof. from the Faculty of Mathematics and Computer Science will be awarded with Convallaria Copernicana the NCU special distinction.
The ceremony will be attended by dr Piotr Dardziński, Deputy Minister of Science and Higher Education.
Before the inauguration ceremony (at 10:15) the Rector and the members of the NCU Senate will lay flowers at the monument of Nicolaus Copernicus in the Old Town Square (Rynek Staromiejski).
The inauguration programme includes, among others: the speech by Prof. dr. habil. Andrzej Tretyn, NCU Rector and awarding prizes and distinctions.
The inaugurating lecture The ancient and contemporary face of veterinary medicine will be delivered by Prof. dr habil. Jędrzej M. Jaśkowski. Director of the Inter-University Centre for Veterinary Medicine.
The matriculation of the first year students is a significant moment of the ceremony. The representatives of those faculties with the best recruitment results will take the oath at the hands of the Rector.
Live coverage of the event will be run by NCU TV (tv.umk.pl).
On 11th October 2018 there will be a special Mass for the 2018/2019 academic year in the Jesuits Academic Church.