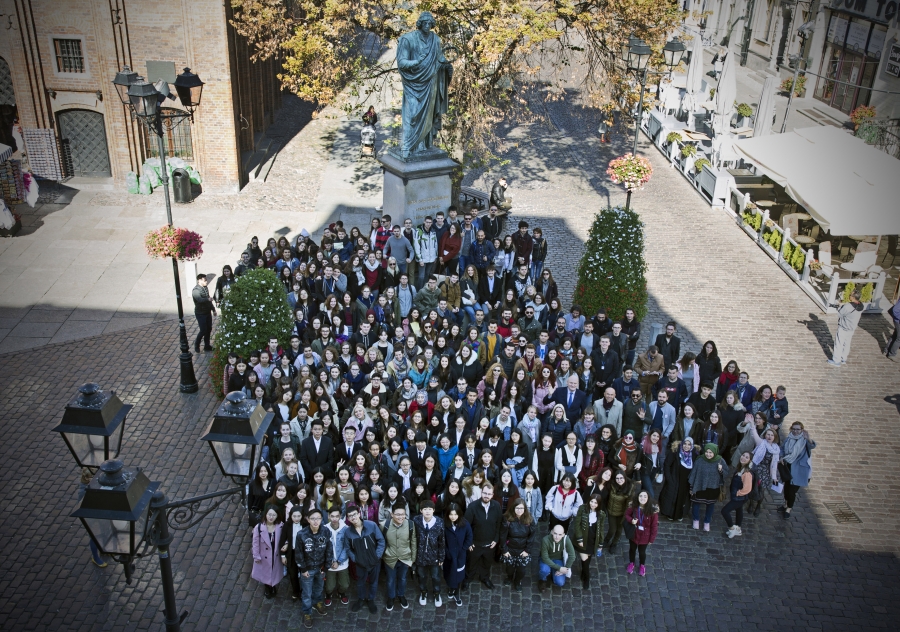 Lectures, meeting with the Municipal Police, cultural workshops, a sight-seeing tour and the "Welcome Party" - such attractions are waiting for international students who will start their studies this semester at the Nicolaus Copernicus University in Toruń.
On 27th September 2018, the Orientation Week organised by the International Cooperation Department for overseas students arriving within the Erasmus+ programme. In the winter semester almost 230 students from all over Europe will study at the Nicolaus Copernicus University. Most of them - 193 people, will study on the Toruń campus. 74 students come from Turkey. The next biggest groups are from Spain and Portugal, as well as France and Italy. In total, Erasmus students come from 19 countries. They will study at the Faculties of Economic Sciences and Management (36); Languages (30); Humanities; Political and International Studies (29), Earth Sciences (28) and at the Faculty of Medicine (22).
This year, some events will also be attended by foreigners who start their education at the University for a full cycle of education, as well as students coming to courses and internships. In total, there are about 160 foreigners (with Erasmus students - 360).
The Orientation Week is a series of meetings during which students receive a lot of practical information on studying at the University and living in the city. The Orientation Week agenda is very rich. Particular emphasis is given to the security aspects of foreigners; hence the programme includes a meeting with municipal police and workshops with a psychologist. There will also be meetings showing the international aspect of the Erasmus programme and challenges faced by students during their stay, lectures on Polish history and various talks, for instance: On Poland through the Eyes of a Foreigner given by Daniel Mallet from France - a former NCU Ph.D. student.
This year, NCU foreign students are invited to an official welcome at the Dwór Artusa with the participation of Michał Zaleski, City Mayor. A special accent of this meeting will be the recital of Marine Granier, a French opera singer who, accompanied by pianist Robert Matusiak, will sing the most beautiful 18th-century arias composed by Polish and foreign composers.
The University also counts on the integration of the entire academic community, which is why a special "Welcome Party" will be held for Polish and foreign students on 6th October 2018 in the Student Club "Od Nowa". The programme includes a concert by Liana Stetsenko a Ukrainian guitarist, Mirosław Bylicki's international band - Freygish Orchestra, and a dance party with Radio Sfera. The day before (October 5th, 2018) the Olympian Łukasz Pawłowski will meet with foreigners. In addition, NCU students-foreigners will meet with basketball players of the Twarde Pierniki Club (accompanied by a group of cheerleaders), and the NCU Sports Association will boast about the sports results of the students from Toruń.
During the Orientation Week the Erasmus students will also learn Polish.