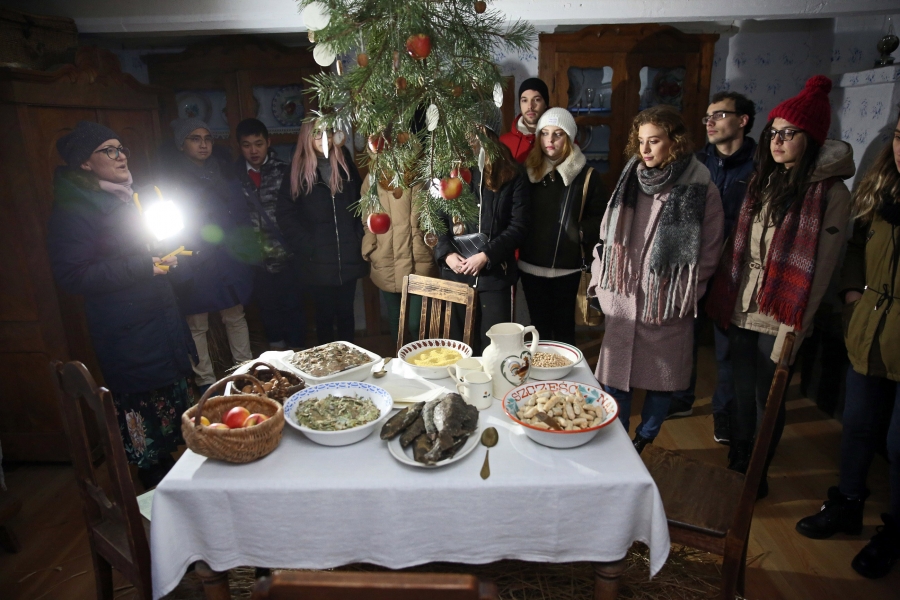 What does Christmas Eve taste like? What Christmas customs prevailed in the Kujawy region? International students of the Nicolaus Copernicus University in Toruń could discover these and many other curiosities about the local Christmas traditions during a meeting held at the Ethnographic Museum in Toruń.
There were far more attractions on that day. Foreigners visited the huts of the Ethnographic Museum beautifully decorated for Christmas, and they could learn what Christmas Eve had been like and how the first day of Christmas had been celebrated over a hundred years ago in the Kujawy region.
Then, dr habil. Jarosław Dumanowski, NCU Prof. from the NCU Faculty of Historical Sciences gave a lecture on the rich culture of Christmas dishes. To feel the magic of Christmas, the students also made a colourful chain and hung Christmas balls on a three-metre Christmas tree. On the 200th anniversary of the Silent Night carol, students sang this most famous carol in four languages: Polish, English, German and Esperanto, all accompanied by the classical guitar. The students could also learn the traditional "walking" dance.
Yet, what would a Christmas meeting be without tasting Christmas dishes and sweets? Tomasz Welter, vice president of the Kujawy and Pomerania Cooks Association, presented a special Christmas cooking show followed by tasting.
The event was organized by the NCU International Cooperation Department, the Municipal Office of Toruń and the Marshal's Office of the Kujawsko-Pomorskie Voivodeship. The event was attended by about 100 foreign students, including about 20 from China, as well as Erasmus+ students from the Toruń campus and from the NCU Collegium Medicum in Bydgoszcz.