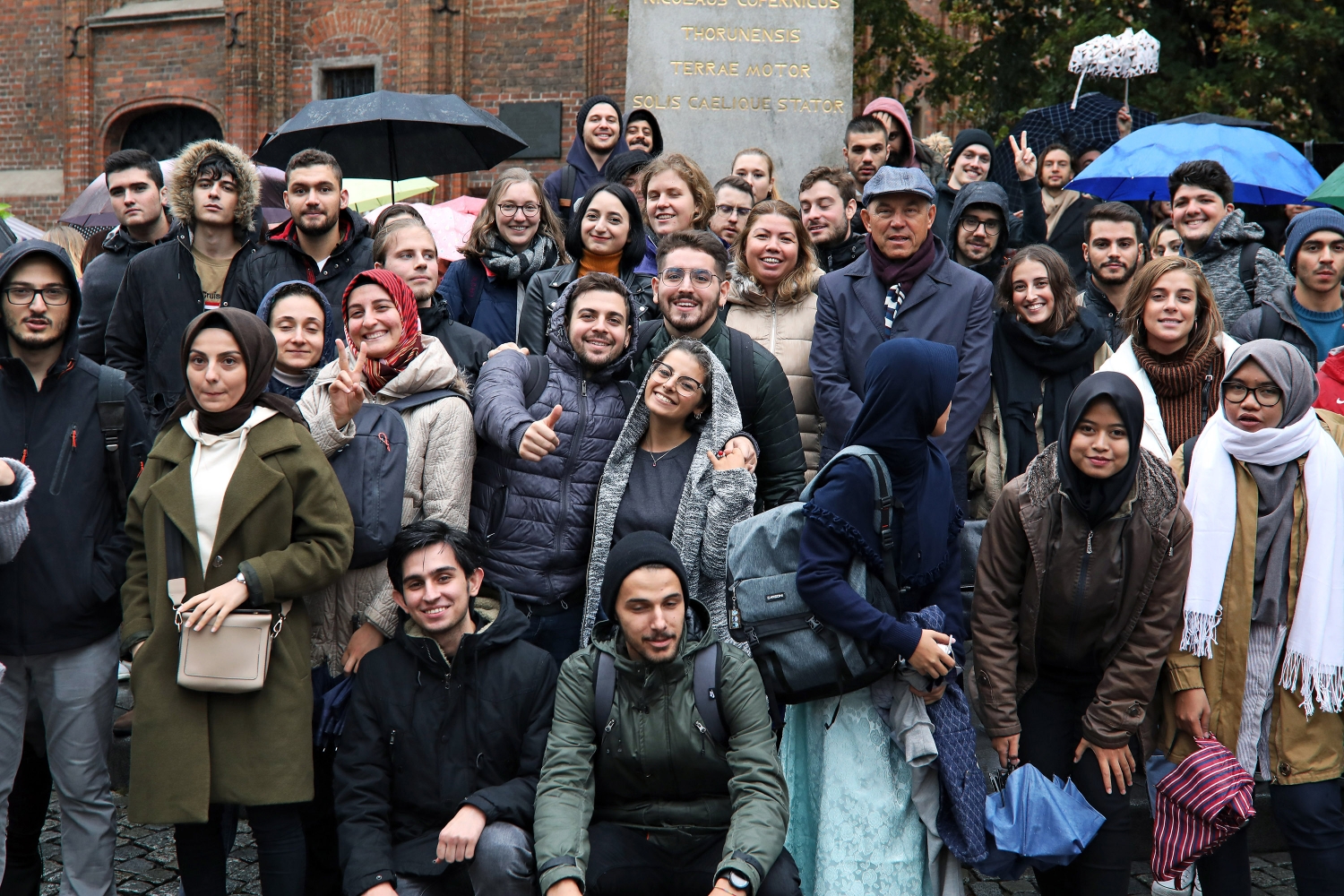 The Department of International Cooperation of the Nicolaus Copernicus University organized the Orientation Week for international students. Nearly 400 foreign students started their studies at the Nicolaus Copernicus University on 1st October. Among them there are Erasmus+ students, full-cycle students and participants of shorter courses.
Year by year there are more and more international students at our University. There are 200 Erasmus+ students The largest group are citizens of Turkey, but also of Spain, Portugal, Italy and France. Among the students starting a full cycle of education at the Nicolaus Copernicus University, the biggest numbers come from the neighbouring countries: Ukraine and Belarus, but three are also students from China and Indonesia. In addition, the Nicolaus Copernicus University will host a dozen or so interns from all over the world.
The Orientation Week is a series of meetings during which students learn practical information about studying and living in the city. The aspects of foreigners' safety deserve special attention, hence the programme includes a meeting with city guards and workshops with a psychologist. Last but not least, the meetings showing the international dimension of the Erasmus+ programme and the challenges faced by students during their stay are of equal importance. For many of them, studying in Poland is the first foreign trip in their lives. The aim of these classes is to prepare students - especially those from outside Europe - for cultural shock. The plan includes interesting lectures, classes and workshops presenting various aspects of culture that students may have to deal with during their studies. Lectures on Polish history have also been prepared, thanks to which it will be easier for foreigners to understand the cultural and historical context of our country.
Students have the opportunity to participate in a short Polish language course. Those who want to learn the secrets of our language can also participate in classes during the academic year.
This year DIC together with the authorities of the city of Toruń had also planned an official welcome of international students at the Dwór Artusa. The meeting was attended by President Michał Zaleski and Prof. Wojciech Wysota, NCU Vice-Rector for International and Business Cooperation. A special artistic programme was prepared by the Young Toruń Song and Dance Ensemble, which presented the most famous Polish folk music and dances to foreigners. On that day, the students also visited the Old Town and the guides told them the most interesting stories related to the city.
Integration of Polish and international students is very important. Students associated in the Erasmus Student Network have prepared the so-called Polish dinner for Erasmus students. On 5th October all international students were also invited to the "Welcome Party" in one of Toruń's clubs.